-----♥♥♥----- Pυт Tнιѕ
---♥♥---♥♥--- Oи Yσυя
---♥♥---♥♥--- SITE Tσ
---♥♥---♥♥--- Sнσω Rєѕρє¢т
----♥♥-♥♥---- Fσя Aℓℓ
-----♥♥♥----- Tнσѕє Tнaт
----♥♥-♥♥---- Aяє Fιgнтιиg
---♥♥---♥♥--- Caиcєr .
This Site is updated frequently,
(When My Mummy Feel's Well And Isnt In Hospital)
so please check back often
http://www.raceforlifesponsorme.org/lyndseycrowder


Please Come And Visit Mummy
And Support Her Fight Againt Cancer On Facebook.com
Lyndsey Crowder (Liverpool, UK)


Alice Is A Big Sister....
to Sidney Rose Crowder,
Born At 34 Weeks,
On 31st August 2008,
4lbs 9oz
Please Read My Timeline & Look In My Pictures.



In the Loving memory
Of Our First Born Daughter,

(Thankyou Brandy xXx)
Grandaughter,
Niece And Cousin....
(Alice's 12 Week Scan)
(Alices 20 Week Scan)
Alice was Born Sleeping in Liverpool
Womans Hospital, United Kingdom,



On 8th January 2006 at 11.45am,
At 40 Weeks,




Weighing 5lbs 7oz and
19 inches long...


Thankyou Julie xXx

http://www.angelsimages.com.au



Our Heavenly Angel Twins -
miscarried at 8 weeks
On The
29th November 2006



(Thankyou Brandy)


A Child that loses a parent is an orphan,
A Man who loses his wife is a widower,
A Woman who loses her husband is a widow,

There is no name for a parent that loses a
child,

For there is no word to describe the pain...








We will Always Love You
& Miss You, Sweet Pea
xXx




(Thankyou Tammy xXx)








THE CORD




We are connected, my child and I,
By an invisible cord, not seen by the eye.
It's not like the cord, that connects us 'til birth,
This cord can't be seen, by any on earth.

This cord does it's work, right from the start,
It binds us together, attached to my heart.
I know that it's there, though no one can see,
The invisible cord from my child to me.

The strength of this cord, its hard to describe,
It can't be destroyed, it can't be denied.
It's stronger than any cord, man could create,
It withstands the test, can hold any weight.

And though you are gone, though you're not here with me,
The cord is still there, but no one can see.
It pulls at my heart, I am bruised... I am sore,
But this cord is my lifeline, as never before.

I am thankful that God, connects us this way,
A mother and child,
Death can't take that away!

Author Unknown







Angel Star - Alice Emma Crowder,
8th January 2006,

Co-ordinates 02:35:15.431,
In the constellation Andromeda.




"Stars are the forget-me-knots
of angels in
the meadow of heaven"


(Thankyou Maria xXx)





(Thankyou Brandy)



"Loosing you"




If our tears could build a stairway to Heaven
And our Memories were just down the lane
We would walk to Heaven gladly
And bring you back again.

No fair well words were spoken
No time to say goodbye
In a split second you were gone
And God only knows why.

Our hearts will ache with sadness
And our secret tears will flow
What loosing you meant to us
Now one will ever really know.

Copyrighten:
Ms Cheryle-Anne Finn

http://www.angelfire.com/poetry/stardust_7/index.html


(Thankyou Cheryle-Anne xXx)






Pay attention to your dreams -
God's angels often speak directly
To our hearts when we are asleep.

~ Quoted in The Angels'
Little Instruction Book
by Eileen Elias Freeman, 1994






Angel Star, Angel Star.




Angel star, angel star,
I never wonder where you are.
You're an angel called to love,
From the heavens up above.
Angel star, angel star,
Alice, you're my angel star.

Angel star shining bright,
Making all the darkness light.
Angel star twinkling high,
Sparkling diamond in the sky.
Angel star, angel star,
Alice, you're my angel star.

When the warming sun is set,
And my face with tears is wet,
You guide me with your blazing light,
Twinkling in my dreams at night.
Angel star, Angel star,
Amazing angel, angel star.

Angel star, angel star.
Jesus cradles you in his arms.
In the heavens, full of love;
Singing with the choir above.
Alice, you're my angel star,
Amazing angel, angel star.

Angel star, angel star,
Mummy loves you, angel star;
Forever held in my heart,
Amazing angel, angel star.
Angel star, angel star,
Alice, you're my angel star.


Copyright Maria Zollo 2006
All rights reserved

(Thankyou Maria xXx)










Alice Is a


Like Her Daddy..









Alice's Plaque




Don't let them say I wasn't born,
That something stopped my heart,

I felt each tender squeeze you gave,
I loved you from the start.

Although my body you can't hold,
It doesn't mean I'm gone,

This world was worthy not of me,
God chose that I move on,

I know the pain that drowns your soul,
What you are forced to face,

You have my word, I'll fill your arms,
Someday we will embrace.

You'll hear that it was "meant to be,
God doesn't make mistakes"

But that won't soften your worst blow
Or make your heart not ache.

I'm watching over all you do,
Another child you'll bear,

Believe me when I say to you,
That I am always there.

There will come a time, I promise you,
When you will hold my hand,

Stroke my face and kiss my lips and
Then you'll understand.

Although I never breathed your air,
Or gazed into your eyes,

That doesn't mean I never "was"…
An Angel Never Dies.


Thankyou To the

http://stores.ebay.co.uk/The-Kitten-Coven








The death of a baby is like a stone
cast
Into the stillness of a quiet pool;


The concentric ripples
Of despair sweep
Out in all directions,
Affecting many,
many people.

--De Frain, 1991







(Thankyou Rachel's Mom xXx)










Angel Moms




We have shared our tears and our sorrow,

We have given encouragement to each other,

Given hope for a brighter tomorrow,

We share the title of grieving mother

Some of us lost older daughters or sons,

Who we watched grow over the years,

Some have lost their babies

Before their lives begun,

But no matter the age, we cry the same tears.

We understand each others pain,

The bond we share is very strong,

With each other there is no need to explain,

The path we walk is hard and long.

Our children brought us together,

They didn't want us on this journey alone,

They knew we needed each other,

To survive the pain of them being gone.

So take my hand my friend,

We may stumble and fall along the way,

But we'll get up and try again,

Because together we can make it day by day.

We can give each other hope,

We'll create a place where we belong,

Together we will find ways to cope,

Because we are Angel Moms

And together we are strong!

Judi Walker

(Thankyou Georgie xXx)





Crowder Twins Plaque...
They say memories are golden, well maybe that is true.
I never wanted memories, I only wanted you.
A million times I needed you, a million times I cried.

If love alone could have saved you, you never would have died.
In life I loved you dearly, in death I love you still.

In my heart you hold a place no one could ever fill.
If tears could build a stairway and heartache make a lane,

I'd walk the path to heaven and bring you back again.
Our family chain is broken, and nothing seems the same.
But as we are called one by one, the chain will link again.....
Thankyou To the

http://stores.ebay.co.uk/The-Kitten-Coven

What Makes A Mother




I thought of you and closed my eyes
And prayed to God today
I asked "What makes a Mother?"
And I know I heard him say
A Mother has a baby
This we know is true
But, God, can you be a mother
When your baby's not with you?

Yes, you can he replied
With confidence in his voice
I give many women babies
When they leave it is not their choice
Some I send for a lifetime
And others for the day
And some I send to feel your womb
But there's no need to stay.

I just don't understand this God
I want my baby here

He took a breath
and cleared his throat
And then I saw a tear
I wish I could show you
What your child is doing today
If you could see your child smile
With other children and say
"We go to earth to learn our lessons
of love and life and fear
My mummy loved me so much
I got to come straight here
I feel so lucky to have a
Mum who had so much love for me
I learned my lessons very quickly
My Mummy set me free.

I miss my Mummy oh so much
But I visit her each day
When she goes to sleep
On her pillows where I lay
I stroke her hair and kiss her cheek
And whisper in her ear
Mummy don't be sad today
I'm your baby and I am here"

So you see my dear sweet one
Your children are okay
Your babies are here in My home
And this is where they'll stay
They'll wait for you with Me
Until your lessons are through
And on the day you come home
they'll be at the gates for you

So now you see
What makes a Mother
It's the feeling in your heart
It's the love you had so much of
Right from the very start
Though some on earth
May not realize
Until their time is done
Remember all the love you have
And know that you are
A Special Mum.

Author © Unknown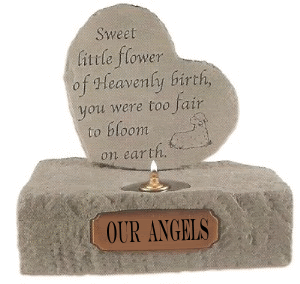 Please Visit Our Stillborn Angels 2006-2006

http://www.stillborn-angels.memory-of.com



(Thankyou Brandy)



For My Daddy





I have a little daughter,
who means the world to me

She's living with the Angels
and is as special as can be

And even though she's up there,
playing in the clouds

She's still my precious daughter
and I am so very proud

Her picture takes pride of place
on my living room wall

Ready to be admired
by all who come to call

I know I can not hold her,
or bounce her on my knee

But I only have to close my eyes,
her little face to see

I never will stop missing her
and wishing she were here

But sometimes I feel,
indeed I know that she is very near

So play happily my little daughter,
you will never be forgot

I love you so and always will,
though I miss you such a lot .

Thankyou Again -

http://stores.ebay.co.uk/The-Kitten-Coven










Crowder Twins




A Mother's Love
I didn't have to look into your eyes
To fall in love with you two
I didn't have to hear either of you cry
To know you both loved me too
I didn't need to hold your hands
To cherish each of you always
Within my womb we shared our hearts
You both touched my soul
You sweetened my spirit
You gave me memories I'll always
Hold very dear
Yes, my heart aches since
You two departed so soon
But a mother's love does not
End with death
For you both are my children
My love is forever yours

~ Author Unknown ~









I Am Still A Daughter....




I am a daughter,
Perfectly formed, but still.

I was born with a name, Alice,
A product of my parents genes,
Their child. But I came without breath,

And so I am not counted. Or acknowledged
Had I taken a breath or made a whimper,
had a beating heart or moved a limb
I would have been called a "baby"

To my mother I am her baby.
It's how she calls out to me when she cannot sleep,
Pleading, imploring, asking, why.....?

Her love transcends time; our bond of life is not broken,
I was here, flesh of her flesh, blood of her blood,
And I will always be.... Her baby.

Two souls... joined for eternity.




Please Visit Alice's Legacy
For Mummys Story,
Our Crowder Twins,
And Also Visit Her Timeline For Mummy's Pregnancy....






Memnon




"My tears are watermarks
Which imprint forever
Sentient reminders of gentle hopes
And dreams subdued.
Extant in painful thought they are
And sleep afar
In caves of ancient echoes
Wailing for my perished child
Who now guised in angel's silk
Sings madrigals of sweet delight
And turns my tears heavenward
To drift peacefully into the
Forgiving canyons of winters night.

Memnon, the son of Eos, Goddess of Dawn,
who mourned his death by weeping every morning"

(Thankyou) Michael R. Berman, M.D.

Copyright @ 2005 All rights reserved

http://www.hygeia.org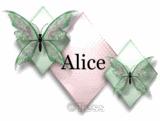 (Thankyou Jeda xXx)

(Thankyou Tammy xXx)





Beyond The Gate




On earth we don't understand
Why babies have to die
Their little lives are taken
And our painful cry is "Why?"

As we endure the pains of life
No other pain compares
A parent weeping for a child
Just briefly it was theirs

For reasons we don't understand
Their little lives are taken
And we cry out to God above
"Why must I be forsaken?"

The little one did nothing wrong
Their lives had yet to begin
How could the Lord allow this thing?
If he's the Holy One?

I held my stillborn daughter in my arms
Tears running down my face
My baby never had a chance
Her life was just a trace

I got to hold her briefly
And my heart was breaking so
This little girl, I held so tight
I'd never get to know

As I held my little girl
With pain I could not bear
I felt a presence in the room
I knew someone was there

With earthly eyes, I tried to see
Through the pain and bitterness
And wanted so to scream at God
For cheating me like this

Then I felt a warming glow
As it surrounded me
And then, I heard an Angel whisper
"What must be, will be."

"God knows your suffering and your pain
But, you must understand
Everything that God allows
Is for his final plan."

"You only see the earthly things
And some will cause you pain."
"But be assured, your daughter is safe,
And you'll see her again."

"This life is temporary
Everybody's going to die."
"I know that you can't understand
And want to question, why?"

"God has sent his Angels
And we came to comfort you."
"We ask you to share this message
With other Mothers too."

"Many Mothers lose their children
Before they are born."
"The Angels know their pain and grief
And feel it when they mourn."

"But one thing Angels know
That Mothers do not understand
One day the Mothers once again
Will hold their child's hand."

"They'll hold them in their arms
And they will say their precious name
And on that day they'll understand
Why they went through the pain."

"There is a plan in Heaven
And one day you'll celebrate
Because your little one is waiting
Just beyond the gate."

~ Author Unknown ~
Click here to see Alice Crowder's

Family Tree
| | |
| --- | --- |
| Tributes and Condolences | |

Happy Birthday


Happy Brithday Alice always thinking of you and often pop to see you with flowers love always Col Lee and baby Jack xxx


Happy Birthday


Happy 4th Birthday Alice

Hope your blowing out your candles up in heaven

Lots of love to your mum dad and little sister on this special day!

Always in our thoughts

Love from Nat Scott Liam Dec and Mia Rose... Continue >>

Missing you x


Happy birthday Alice. Miss u everyday. Taken from this place too soon to watch over Lyndsey Nic and lil sis Sidney Rose. Love u x x x x


8th January 2010 - 4th Birthday


On 8th January 2006 at 11.45am Our First Born Daughter Alice Was Born Sleeping at 40 weeks Weighing 5Lb 7oz And was 19 inches long... we cant belive you should have been 4 today we Miss you more & more each day we Love You always Sweet Pea Mummy ... Continue >>

Happy Birthday


thinking of you sweet girl xxxxxx

For Alice and Family Read >>
In Memory of Baby Alice Read >>
Sincerest Sympathies Read >>
To little Alice's Mummy & Daddy. Read >>
For Nic and Lynz Read >>
We Hear Each Tear Fall From Her Face Read >>
On Mothers Day Read >>
A Belated Mother's Day Thought From Alice Read >>
Alice, twins and Family Read >>
Thinking of you this Easter! Read >>
| | |
| --- | --- |
| Her legacy | |

Our Daughter - Mummy's Story xXx












Angel Alice

We found out we were pregnant at the end of march 2005, to our joy,
we'd been trying for 9 months, it was our first pregnancy, exited, nervous, unbelievable news, our family & friends were so happy & supportive, its was fantastic, also my best friend was 4 weeks ahead of me, so we could share the joy together.

The pregnancy was straight forward as can be morning sickness & low lying placenta.
As i grew bigger we were revamping the whole house (had poor Nic up the Wall) for our new arrival & setting up our nursery, growing larger & finished work and on maternity leave we were sorting out bits & bobs before our new arrival,
i had my final scan at 34 weeks my placenta had moved & baby weighed 5lb 7oz all was well.

My Best friend had hers, a beautiful baby girl Betsy, when i held her for the first time my baby bump was kicking her.

All exited for our arrival.
We went to my midwife as usual on wednesday all was well & fine, baby kicking on thursday & friday, went off bed late friday evening & started in labour early saturday morning (put on my tens machine, as i wanted a natural delivery)
called my mum who came round to our home, called my now husbands parents, to let them know were all off to hospital, baby's on its way.

We arrived at the hospital, my husband parents waited outside,
and my mum & My now husband came in with me for my checks,
The 1st midwife came could not find a heart beat,
"don't worry, don't panic she says, baby's probably turned"
and goes off to get another midwife, the same again no heart beat,
i was in so much shock, this wasn't right, it must be a mistake, i was devested, words don't describe how i felt,
I don't remember much after this it was like a dream world, we all went for a scan to confirm this, all i can remember was my mums & husbands face, i have never saw so much sadness in people eyes, as they were trying to be strong for me.
We were all taken to a special room, it was massive the size of a hotel, with a special cold room, for when the baby was delivered.
the staff were fantastic & supportive.
8 gruelling & mentally hard hours later, on every drug under the sun to numb my heartache rather than my phisical pain (my natural delivery went out the window), and also after 4 attempts with an epidural (the last attempt "she is coming" i shouted was 10cms) with a normal as can be delivery,
& one push, our first born baby daughter Alice Emma Crowder was born into this world sleeping on the 8th january 2006
(with the cord around her neck twice),
mum watched her being born,

I held her, our first child, our daughter
and first grandaughter on both sides,
my heart in bits & pieces,
She was so, so beautiful, she was gorgeous, she was perfect, but not alive, no cry's just so quiet, its the most heart breaking moment off my life, how could something so perfect, be so wrong???

My husband, our family & friends had precious time with Alice
(me & nic also had time alone with her,
when i could get out of bed as the epidural had now kicked in)
we had her blessed & named, early hours she was taken away.

I was so, so empty,
i was numb words cannot describe what it was like for me & my husband that night on the hospital ward, with no little baby girl, our world, our future GONE,
Watching all the expecting mums passing by was heartbreaking.

We saw her one last time in the chaple room downstairs & said our goodbyes, me & nic, tina & jimmy (nic's mum & dad) and my mum & dad.
I couldnt leave the room, i wanted to pick her up & run away with her.
my heart was broken.

We came home I cant remember much, funeral looming & so much support, i really couldn't believe how supportive everybody was,
It wasn't just her mummy & daddy hurting, it was also family & friends too, it hurts everybody.

We never went to see Alice in the chaple of rest - as we didnt want a post mortem, we wanted her buried perfect, we just dropped of her burial clothes (shown in her pictures)
i wanted just my pictures in my mind & memories of the time in the hospital,
scared incase she looked different.
We picked up her blanket, baby grow (which now had on some of her blood) & her "hello World hat"

the days passed - i still cant remember much - as i think back, i know of how much support we, i cant thank every one enough.

i was still expecting or feeling like, she'll be home soon,
feeling my tummy - which was now empty,
i sat in her nursey a lot, on our rocking chair.
the feelings were so strange, empty & lost i suppose.

We buried our Angel Alice 8 days later,
So many people at her graveside, so many flowers, pops read out a reading
(on Alice's timeline)
don't remember any of that day at all, its a blur, think are popping back now.

7 weeks later we went for our debrief, going in expecting conclusion of cord accident what we had been told.

We found out she'd stopped growing at 34 weeks (my last scan), Even though i was at the midwife weekly for check ups (Urine,BP & to Measure My Bump), they didnt pick up on she had stopped growing from then,
& when i delivered her at 40 weeks, she weighed the same 5lb 7oz, for 6 weeks she struggled, survived and fought life in my womb and that friday night she passed away in a matter of hours while i slept,
dr's couldnt give a reason why, only she stopped growing due to placenta insufficiency. The only way the could have picked up on it was if i had weekly scans after the 34 week (& a graph plot would show she was not growing) - but the was no reason to do this as it was my first pregnancy.

It was like we'd been knocked back to the beginning to that day of the 8th january.

It still haunts me all the what if's??

What if - we went the hospital after seeing the midwife, with pains on wednesday the 4th January??
(the midwife couldnt confirm if i was in slow labour & how was i supposed to know with it being my first baby).
What if - i had of noticed on Friday the 6th late night,
the kicks had slowed down??

Was she even kicking? - i started to even doubt myself in so many ways.
So many what if's, buts & how's - but i can never change the outcome now.
my mind still drifts & thinks what if to this day.


We came home in total shock & disbelief,

i needed, we needed to run/get away, we booked a last minute holiday to
Las Vegas - we needed somewhere busy to keep our minds busy.
5 days into the holiday my then boyfriend, booked us in the little white wedding chapel for a drive through wedding, that same day, an off the cuff thing, it was the most romantic & intimate thing ever, i was so scared of loosing him, and this made us so much stronger, such an array of emotions we were both going through,

Were a team & we will always will be (Team Crowder).

8 weeks later my father "pops" passed away suddenly, we couldn't believe or handle any more grief & sadness, what a year & a bit its been for us all.

(With Love My To Uncle Joe, Who We Also Sadly Lost Last Year,
we've been told your looking after her in heaven -
Thankyou for feeding her, her bottles xXx)

This is the first time ive been able to do anything like this, and tell my story how i feel,

I sit writing this knowing my Daughter Alice, My Pops & My Uncle Joe,
are watching over me & keeping us strong.

I will never forget this year, its been the worst & best time of my life.

What ive come to terms with all this,
its times like this you know who your friends & family are,

We look to the new year (it Can't come quick enough)
and our future together as a young married couple,

Whatever the future holds...

Knowing we have very special Angels watching over us.


I feel ive taken another step on the ladder,


Thankyou For Listening, And Taking The Time To read My Story,

If you have more time
Please also read Alice's Timeline,
Of the Loss & Miscarriage of our twin babies...

And Now The Happy Event

Of Another Baby On The Way,

Alice Will Be A Heavenly Angel Big Sister.......

Please Also Come And Visit Mummy

On Facebook.com

Lyndsey Crowder (Liverpool, UK)

*´¨)
¸.· ´¸.·* ;¨)¸.·*¨)
(¸.·´ (¸.·'´ *Lynz*














Please Visit Us...







Baby Loss Awareness Ribbons Are Available From:-



http://www.babyloss-awareness.org

Please Promote Ribbons
& "Wave Of Light"...



Baby Loss Awareness
PO BOX 13703, MUSSELBURGH. EH21 6WX
email: info@babyloss-awareness.org
www.babyloss-awareness.org
call: 07900 495436

Received with thanks from
Lyndsey Crowder
for the sale of Baby Loss Awareness Ribbon Pins during
September/October 2006
The sum of: £300
All monies raised will be split equally between: ARC (Antenatal Results and
Choices), Registered Charity No: 299770; Babyloss, a voluntary organisation
www.babyloss.com; The Ectopic Pregnancy Trust, Registered Charity No:
1071811; The Miscarriage Association, Registered Charity No: 1076829; Sands,
the stillbirth & neonatal death charity, Registered Charity No: 299679.

With Compliments
Marion C. Currie,
Campaign Co-ordinator.
For and on behalf of Baby Loss Awareness.

Baby Loss Awareness is a collaboration between the following organisations: ARC (Antenatal Results and Choices), Registered
Charity No: 299770; Babyloss, a voluntary organisation www.babyloss.com; The Ectopic Pregnancy Trust, Registered Charity
No: 1071811; The Miscarriage Association, Registered Charity No: 1076829; Sands, the stillbirth & neonatal death charity,
Registered Charity No: 299679.
Donor Receipt 2007



Light A Virtual Candle At -

www.gratefulness.org/candles





Web Sites - To Help Us Grieving Parents...











*Promote October 15th as National Baby Loss Awareness Day within the UK*

We Raised £300 in 2006 - Thankyou




*Promote the annual "Global Wave of Light" events and services where parents can acknowledge their losses*



*Promote awareness and understanding of the impact of pregnancy and baby loss among health and social care workers and the community at large*
http://www.babyloss-awareness.org/

We Raised £300 in 2006 - Thankyou




*Pregnancy & Infant Loss*
http://www.october15th.com/




*Miscarriage, Stillbirth and
Infant Loss Memorial Jewellery*



http://www.labelledame.com/



"I met a lady in the meads,
Full beautiful - a faery's child,
Her hair was long, her foot was light,
And her eyes were wild.""
La Belle Dame Sans Merci"~John Keats 1819


*Angels For Hope
Angels for Hope is a nonprofit organization that offers free crocheted angels for anyone in need of hope.
We attach a small card with the angel to say to an injured or ill person, you are not alone, others do care, and you are in our thoughts and prayers.
At your request we can let it be known that you requested the item.
In addition to crocheted angels, we also offer butterflies and smiley faces*
http://www.angelsforhope.org/





Please Also Visit :-


http://emmas-memories.com/




http://www.carlasangels.com/





http://www.aftertheloss.com/newlayout/angelgarden2006.html




http://www.angelwingparents.org/index.html




http://www.ispokewithmychild.com/




http://www.angelsimages.com.au/


(Thankyou Julie xXx)



Angels Images web site is dedicated to our son Angelo..

and to the amazing mums in 'a uterine rupture' support group



Please Vist Our Special Angels & support
Julie's Hard work



www.gonetoosoon.co.uk




www.bornangels.com




http://www.firstcandle.org/memorial_page/memorial.htm














Alice's Photo Album
/%=page.GetMemoryBookLinkForPageBottom()%>